Automobile Painting – Elkins, WV
Hinzman Auto Repair & Refinish
Taking the Hassle Out of Car Repair Since 1953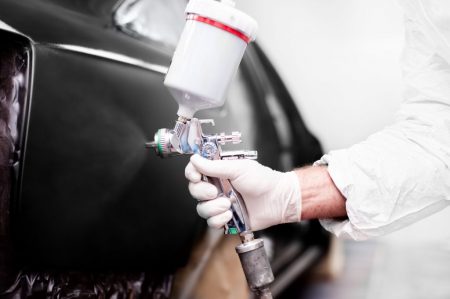 Your vehicle's paint is often the first thing people notice. Is it bright, glossy, and even, or is it chipped, dull, scratched, damaged, and mismatched? Perhaps the sun has faded your car's luster and you are considering bringing back its former glory. Aside from significantly affecting the appearance of your vehicle, paint is its first line of defense against deicing agents, dirt, debris, etc. Whether your car has been involved in a collision, damaged by an unfortunate event, or ravaged by time and exposure to the elements, Hinzman Auto Repair & Refinish will refresh your paint job for a look that will turn heads every time – in a good way!
Total Removal of Vehicle Rust
Your vehicle's paint consists of several layers, including a primer, basecoat, and clearcoat. These work together to provide protection from UV damage, rust, corrosion, and other damage that can render your vehicle unsafe for operation. Oxidation damage does not just stop. It continues to grow larger and consume the metals of your vehicle if left to progress. Total removal of rust is necessary to prevent its spread.
"An ounce of prevention is worth a pound of cure."
-Benjamin Franklin
Bubbling, Chipped, and Scratched Paint Repair
If you notice paint bubbling up on the surface of your vehicle, or see chipped, scratched, or dented areas, stop in to Hinzman Auto Repair & Refinish in Elkins, WV. We can eliminate the problem at its source quickly and affordably to help keep your automobile on the road safely – and looking great! If your automobile is in need of a little tender loving care, Hinzman Auto Repair & Refinish is ready to assist you. Keep your vehicle looking crisp with a touchup or complete makeover in your choice of colors at Hinzman Auto Repair & Refinish.
Paint Color Customization for Your Car, Truck, SUV or Van – Elkins, WV
Have you been thinking about a color change? Hinzman Auto Repair & Refinish provides the professional painting and restoration services required to restore your vehicle's shine and luster. Consider an exciting classic or modern color update to give your vehicle a completely new, absolutely unique look.
A Rainbow of Automotive Color Choices & Premium Vehicle Products
Our automotive painting technicians are highly trained, skilled experts. We offer a rainbow of quality colored standard and specialty paints from the world's finest manufacturers, and premium quality product choices. Protect and enhance the appearance of your vehicle today. From mild to wild, we offer complete paint customization. Hinzman Auto Repair & Refinish provides the quality auto paint services you need to get the exact look you want for your car, truck, van, or SUV.
At Hinzman Auto Restore & Refinish, we have a reputation for performing quality work you can trust. Since 1953, our family-owned and operated local auto body shop has offered dependable vehicle body repair services to help you keep your vehicle on the road safely, while looking great. Whether you need a touch-up or premium custom work, we will work with you to deliver exceptional results at a competitive price.
For more information or to set up an appointment, call Hinzman Auto Repair & Refinish at: 304-636-3663.