Auto Body Repair Shop – Elkins, WV
Hinzman Auto Repair & Refinish
Taking the Hassle Out of Car Repair Since 1953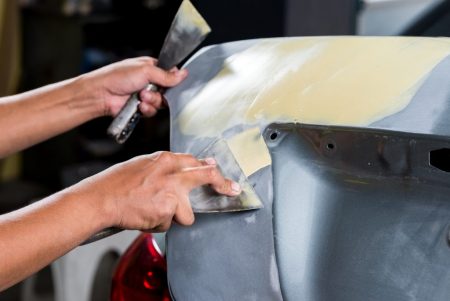 Has your vehicle sustained damage due to a freak incident? Perhaps strong winds blew a tree or debris onto your car? Has your vehicle been damaged by hail? Vandalism? A collision with a deer? Don't worry! The skilled professional auto body team members at Hinzman Auto Repair & Refinish are experts at repairing all types of auto damage. From dings, dents, and scratches to major damage, we have the quality materials, experience, training, and technology to repair your vehicle and get you back on the road quickly – while looking great.
Auto Body Repair Services
Hinzman Auto Repair & Refinish offers a wide range of comprehensive vehicle auto body repair services for residents of Randolph County, WV, and the surrounding region. Our experienced auto body repair technicians are certified experts offering fast service according to industry standards for a professional result every time. It is almost a guarantee that your vehicle will suffer damage at some point. If your automobile has been damaged in a parking lot, by a rogue stone on the highway, or otherwise, we will fix the area to help prevent further damage from occurring as a result of the weakened area. In many cases, we can do a cost-effective spot repair – saving time and money over replacing the entire area.
Auto Glass
Windshields
Dents
Scratches
Scuffs
Bumpers
Fenders
Paintless Dent Repair
Headlight Restoration
Hail, Stone, Tree & Animal Damage
Vandalism
And more!
Windshield and Auto Glass Repair & Replacement in Elkins, WV
Whether you have discovered a small chip or crack in your windshield or require complete auto glass replacement, Hinzman Auto Repair & Refinish will get you back on the road safely. Our team will handle all the paperwork for you, including billing your insurance company. For prompt, professional auto glass service you can depend on, trust the skilled auto body technicians at Hinzman Auto Repair & Refinish in Elkins, WV.
We take pride in providing the best possible service and craftsmanship at an affordable price. Call us to schedule an appointment: 304-636-3663.